The Company You Keep
The Company You Keep
486 49th Street
94609
Oakland
CA
November 1st, 2013 - December 1st, 2013
Opening: November 1st, 2013 6:00 PM - 9:00 PM
QUICK FACTS
| | |
| --- | --- |
| | Other (outside areas listed) |
| | |
| --- | --- |
| | interfaceartgallery@gmail.com |
| | |
| --- | --- |
| | Friday - Sunday, 11-4 pm |
| | |
| --- | --- |
| | mixed-media, installation |
DESCRIPTION
This November, Kelly Inouye will expand upon her ongoing series, The Company you Keep, by creating a large-scale installation for Interface Gallery.
The Company You Keep references Mutual of Omaha's Wild Kingdom, the archetypal nature show in which Marlin Perkins sent Jim Fowler to study animal behavior in particularly dramatic made-for-TV ways. A riveting nature show in its time, Wild Kingdom might also be seen as a strange mechanism for advertising insurance.
Equal parts anthropological study and comedic send-up, Inouye's installation examines the show as a time capsule reflecting the mentality of the era in which it was created. Themes explored include: the application of science to investigate mysteries of the natural world, the use of language to elevate the importance of a project, having the best intentions but being unable to foresee unintended consequences, and above all, Man's classic literary struggle with Nature. Inouye's work highlights the incongruity of the show's slogans considering the current state of our healthcare system and reveals almost sinister undertones of the show's patriarchal tropes.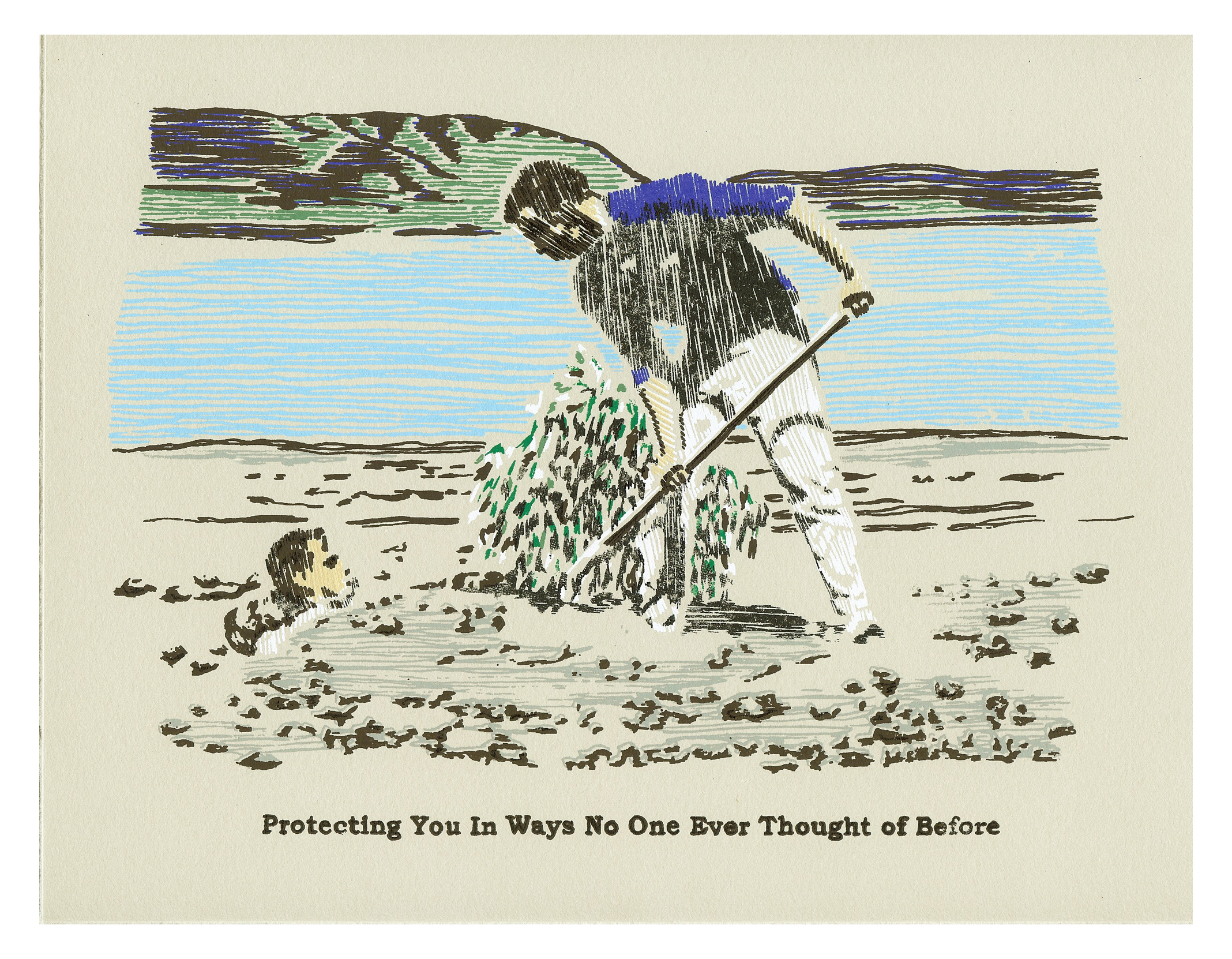 These undertones are very present in the limited edition print that Inouye has created for Interface Gallery, entitled, "Protecting you in ways no one ever thought of before." Drawn from an actual TV still, the image shows Jim Fowler being buried by an assistant and adorned with a camouflage headdress in order to attempt to catch a falcon to "study it." (above) The image out of context and juxtaposed with the text takes on a quite different range of possible interpretations.
Inouye's work has been exhibited nationally at venues including Morgan Lehman Gallery and The Lower Manhattan Cultural Council in New York and Southern Exposure and the Berkeley Art Center in the Bay Area. Her paintings have also been featured in Watercolor Magazine and New American Paintings. She is a graduate of UC San Diego in La Jolla (BA 1998) and The San Francisco Art Institute (MFA 2008). This will be her first large scale installation-based project and brings an exciting new direction to the themes she explores.