"Urban Gravitation"...Where Art, Graffiti Art, and Music Gravitate!!!!
"Urban Gravitation"...Where Art, Graffiti Art, and Music Gravitate!!!!
11464 Whittier Blvd, CA
Whittier,
, CA
90601
July 12th, 2009 - July 12th, 2009
Opening: July 12th, 2009 5:00 PM - 1:00 AM
QUICK FACTS
| | |
| --- | --- |
| | mixed-media, photography, digital, installation, video-art, graffiti/street-art, performance, conceptual, pop, landscape, surrealism, figurative, modern, traditional, sculpture |
DESCRIPTION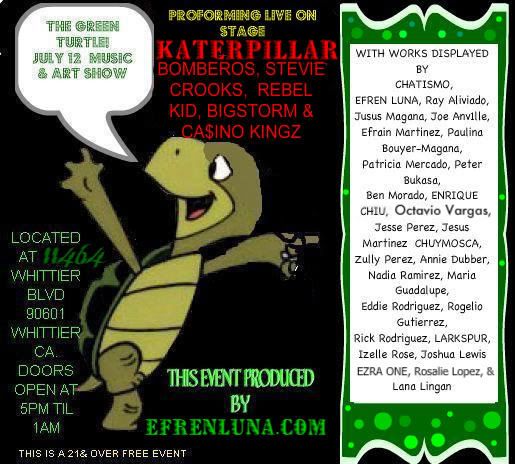 PERFORMERS
BANDS: KATERPILLAR, BOMBEROS, MIXBREED, & SHYTOWN
RAPPERS: CASINO KINGZ, REBEL KID & DJ, BIG STORM, STEVIE CROOKS,  G WEBB more TBA
SUNDAY JULY 12TH, 2009
Green Turtle Bar & Restaurant
11464 Whittier Blvd
Whittier, CA 90601
I am looking for artworks that somehow represent/reflect/remind/express the big-city enviroment as in Urbanism. We live in a large urban community where everypart of society intermingles at some point. This is the focus of our show. ...
This show will feature LIve graffiti art. This show will include artists in many mediums like: drawing, Painting, Printmaking, Photography, graffiti art, and more
Music: Rock, Hip-Hop. DJ.
Please contact me if you are interested in participation as an artist, band, rapper, or graffiti arits.
This wil be a one day show at the venue with live musical parformances...bands and rappers and djs.... this will be 21 and over artshow/event.
All artists are wellcome to participate in the exebition wich will feature a seperate room within the venue that will serve as an art gallery. Some art pieces will also be displayed in the bar walls....
THE SHOW/CONCERT/EVENT WILL START AT 5PM ON  SUNDAY AND WILL COMENCE WITH LIVE GRAFFITI ARTISTS SHOWING THEIR TALENT AND SKILLS AT THE VENUES PARKING-LOT.
IN THE INTERIOR OF THE VENUE WE WILL HAVE  A SEPERATE GALLERY SPACE...
AND IN THE MAIN BAR/STAGE WE WILL CONCLUDE OUR EVENT WITH LIVE PERFORMANCES BY UNDERGROUND URBAN ARTIST AND BANDS PLAYING
Thank you
Efren Luna
http://www.efrenluna.com/vnews.php?id=21
(562) 756-3428