DL Watson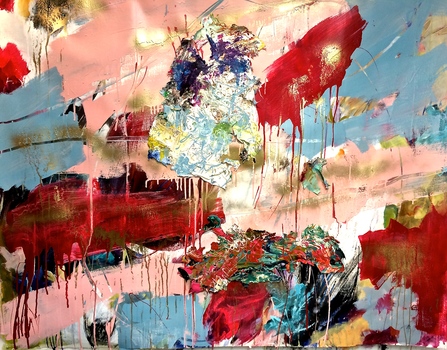 Quick Facts
Ft Lauderdale, FL. and Bend, OR.
Ft Lauderdale, FL. and Bend, OR
abstact expressionism, expressionism mixed-media, painting, mixed-media, landscape, modern, design
Statement
ARTIST STATEMENT
Painting for me is an expression. A connection to my life and emotions, both conscious and subconscious. There is seldom a plan as the creative process begins. The subject, medium and technique just emerge. An image from a dream, a detail found that is usually missed or under appreciated can surprisingly find its way to the canvas. Strokes on the usually large canvas are bolder, more gestural, adding an element of the physical to the work. Experimental at first, eventually giving way to a flow of just what feels right. There is one thing, however, that is very consistent: the complexity in my work of layering paint, symbols and mediums. Then adding, scrapping, taking away and covering up until that emotion, that expression finds it's way to the canvas. As the process nears its end, I begin to feel vulnerable. For it is a part of me, known or unknown, that is now exposed for all to see. Painting for me is a very personal experience.
ARTIST BIO
Creating has always been an integral part of my life. My mother was a portrait artist. My father was an accomplished artist, cartoonist and illustrator, as well as a successful commercial artist in Miami, Florida. It was with my father in his studio at a very young age that I first developed an appreciation for the creative process. I have studied a variety of forms of art: sculpture, ceramics, painting, architecture, and interior and fashion design. While raising two children I worked as an interior designer,but it is painting that gives me the most fulfillment. Freedom to express; to paint what I feel and what I imagine. The exposure to a variety of art forms and the diversity of a studios in Ft Lauderdale and Bend, Oregon has created a rare combination of pathways for my emotions to navigate their way to the canvas. It is in this expression of self discovery that I have found my life's passion.
NEW CREATIVE PROCESS
Deterioration is my newest series that is an expression of my almost overwhelming concern for our planet. We are destroying nature's balance and beauty while at the same time the sustainability of our own lives. Deterioration is a new creative process that uses destructive forces, very similar to those that are destroying our own environment, to create a unique effect. I use opposing mediums of oil, acrylic and water and then manipulate the mixture on the canvas with alcohol and forced heat. This effect creates works that are representative of current satellite photos of our oceans and ice caps in distress. The result is a raw visual effect that I'm hoping will, in some small way, increase awareness of the destructive nature of our current lifestyle.
Arctic Melt - 48" x 48"
Public Art Project- City of Surfside Florida
For exhibition Fall 2012 To benefit city parks and recreation