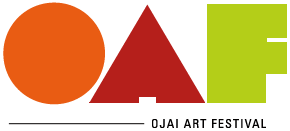 The Ojai Art Festival and the Ojai Film Festival are partnering to hold a juried show of art created from trash, discarded objects and material. The art will be shown in shops, restaurants and galleries in downtown Ojai from November 7th – November 24th, 2013. The opening weekend is November 7th – 10th, coinciding with the Ojai Film Festival's Focus Earth's screenings. Every year nearly 4,500 people attend the Film Festival events. It is our goal to stimulate environmental awareness, encourage conservation, and promote new ways of thinking about art, sustainability, and the environment.
DISCARTED asks artists to work with trash, discarded objects and materials to raise questions and ideas, aesthetic and moral, about the life of the planet our wasteful society threatens.
Accepted art: Art from trash, discarded objects and material: Submitted work may be reasonably considered 'Art from trash, discarded objects and material' if it is entirely, or primarily, composed of at least 75% material(s) that would have otherwise been disposed into the waste streams. Accepted art includes collage, assemblages, wall hangings, sculpture, other 2 or 3-dimensional artwork and moving or projected images.
Juror: Deborah Munk has served as the Director of the Artist in Residence Program at Recology since 2007. She also manages the Environmental Learning Center where the company provides educational tours to over 4,000 children and adults annually.
Entry Fee: $20 per piece, up to 3 pieces per artist, non refundable.
Deadline: September 22nd, 2013